Green Day
Why Green Day tore up their own rulebook with Father Of All…
Father Of All… might be Green Day's biggest ever left-turn. And it might just have reinvigorated one of punk rock's greatest bands right when they personally needed it, too. This is the story of how Billie Joe, Mike and Tré learned to let it all hang loose…
There was a moment while making Green Day's new record when Billie Joe Armstrong decided that he was going to do something strange. He forewarned his buddy and engineer Chris Dugan, the only other person with him in the California studio at the time, but chose not to elaborate on what exactly it'd be. Billie Joe only asked his friend not to judge him if it went badly.
With that, the 47-year-old frontman stepped up to the microphone and began to sing in a sweet, high-pitched falsetto. It was something that the punk rock virtuoso had never dared to try before, and it left him feeling several bus journeys away from his comfort zone.
"I'm a really self-conscious person," Billie Joe reveals. "I think there's a thing about me where – and maybe it's where I come from, coming from such a working class background – it's stifling. In the back of your head, the voices are going, 'Who the fuck do you think you are? You're never going to pull this off.' So you end up pushing yourself. I started singing in this strange falsetto, and then all of a sudden you get to the other side and you're like, 'Holy shit, I can't believe I just fucking did that.'"
The falsetto vocals not only stuck, but became the first thing that anyone heard of Green Day's new era, as they opened the Oakland trio's scuzzy comeback single, Father Of All…, last summer. It was a song that signalled tectonic shifts in the sounds and styles that the band were deploying this time around, with the sun-faded glam guitars and balls-to-the-wall messiness several planetary systems away from the melodic radio-friendliness of 2016's Revolution Radio. The accompanying artwork shared a similar sense of upheaval, presented as the cover to 2004's American Idiot but with the new record's potty-mouthed title and a cartoon unicorn scrawled over the top of it. It felt like a relaunch intended to stir fans up.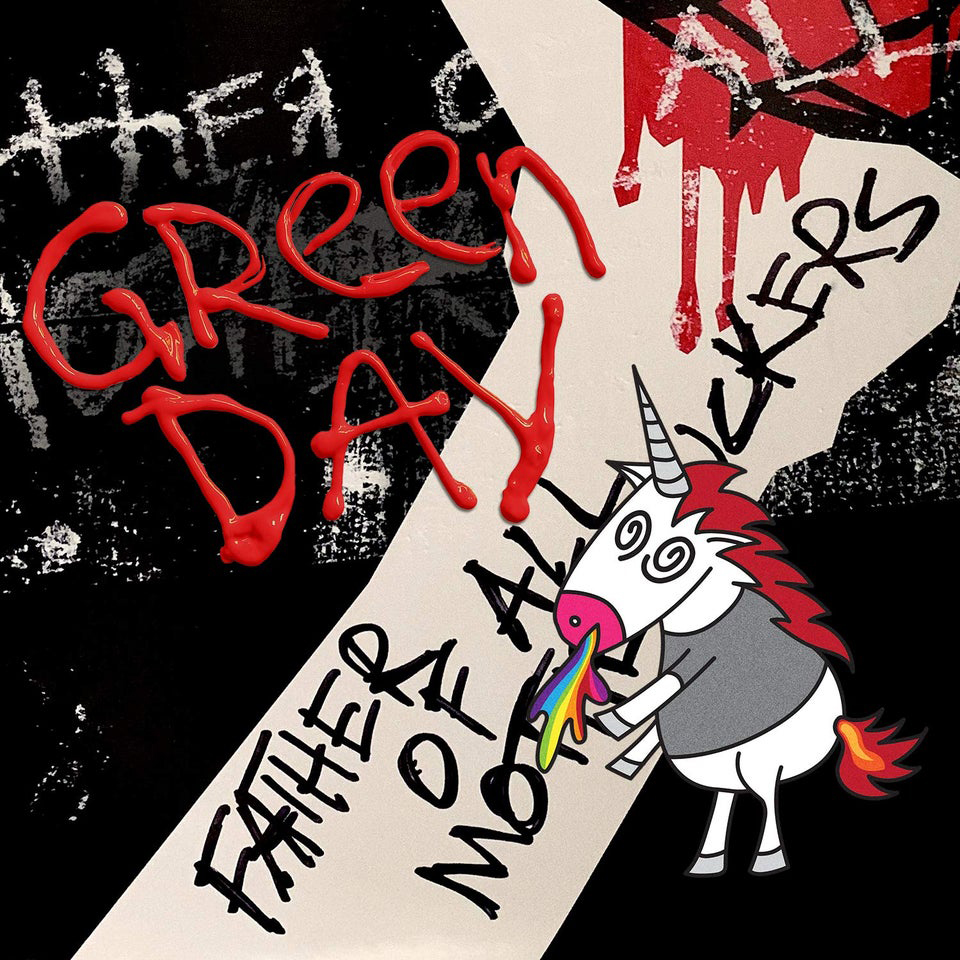 Two more singles served as giant signposts for the final destination of the band's 13th LP, which is also titled Father Of All…. Fire, Ready, Aim is a hip-swinging garage-rock belter that gets in and out in under two minutes, while the Joan Jett-sampling Oh Yeah! flirts with a good-time '70s stomp. They feed into a record that Billie Joe today describes as "messing with the roots of rock'n'roll and rock history", while referencing influences as diverse as Motown, Prince and Kendrick Lamar. Clocking in at precisely 26 minutes and 16 seconds, its 10 songs make up what may come to be known as the East Bay group's most revolutionary jump. But just like his bolt of courage in the studio, the frontman felt powered by an urge to try something unorthodox.
"A lot of it has to do with pushing yourself past the fear of feeling ordinary," he says. "You just have to go there, no matter what. It's so important. You can either do something that you've never done before and see where you end up, or you just end up [thinking], 'Well, maybe I'll just stay in my comfort zone' and write something that's the next Good Riddance… or something like that. That sounds so boring. I know that it would just depress me in the long run, if I was just repeating myself."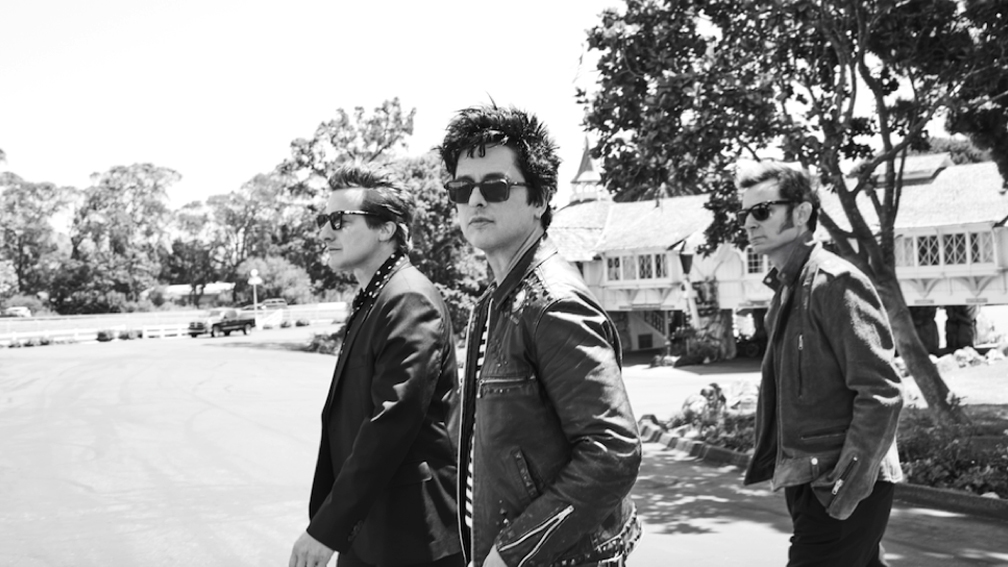 If you want a conception date for Father Of All…, you'd have to go back to around November 2017, when Billie Joe, bassist Mike Dirnt and drummer Tré Cool returned home to the United States' west coast having completed touring for Revolution Radio. A prolific songwriter, Billie Joe began thinking on new material almost immediately, while sharing playlists of other bands and artists with his bandmates as a window into where his head was at. These online mixtapes were filled with R&B from the '70s, Americana, rock'n'roll and Motown – sounds that all three members could get on board with.
"That's what I grew up listening to," says Mike. "This might sound silly, but my sister grew up listening to R&B, and so that's what I listened to because she's four years older than me. That's the stuff that when we were young kids was still on the radio."
Billie Joe was also gripped by the sense that he wanted to break new ground, having felt that Revolution Radio had been in the same sonic ballpark as both 2009's 21st Century Breakdown and American Idiot.
"I really wanted to break out of that with this new record," he says. "I felt inspired to do some kinds of songs that are different, stuff that we've never got into. So that's where it goes into messing around with [Motown's] Martha And The Vandellas.
"It feels like a big leap for us. It's brand new territory, for sure. In the same way as we've had these moments before, putting out a song like Good Riddance… or making a record [like] Warning or American Idiot. For me, it has that feeling, but I think it's more focussed."
It's a point that resurfaces more than once, but Green Day are indeed no strangers to reinvention. In fact, they've done it a number of times throughout their 30-something years, and in cases like 1994's Dookie and American Idiot, it's led to hits so big that you can see them from space. And unlike some legacy acts that have hopped aboard a younger trend in search of an easy ride, the California trio have always genuinely seemed more contented forging their own path. As drummer Tré puts it: "Anyone who says there's nowhere else to go has run out of juice. And we've got a lot of juice, baby."
The band have had to learn to trust their gut, though. Tré points to 2000's Warning, a record with a more straight-ahead pop-rock approach than its predecessors, as a switch that felt dramatic at the time, while Mike regards the step up on seminal album Dookie as a roll of the dice when the band had little to lose. All three members, however, bring up American Idiot as a memorable venture into uncharted waters. The band's seventh album, which prized gigantic melodies and heartfelt theatrics, would go on to sell some 16 million copies throughout the world and be turned into a hit Broadway musical. But before all that, there were three guys just hopeful that they weren't barking up the wrong tree, and what became a certified mega-win only happened because of a large amount of faith and self-belief.
"I remember we had that feeling with American Idiot," says Mike. "We had finished American Idiot, we were all sitting in the lounge of the studio and Billie goes, 'Look, let's not read any of the fucking press. I don't care what anyone thinks.' We knew that we had swung for the fences and whether we hit a grand slam or horribly fucking struck out, we didn't care because we were proud of that record."
Billie Joe, meanwhile, recalls the apprehension when they first embarked on the mammoth project.
"That was like, 'Okay, now we're doing a rock opera,'" says the frontman. "It's sort of a strange feeling, because at first it kind of shocks your system but then suddenly the confidence starts to come in and then you end up with a song like [the nine-minute epic] Jesus Of Suburbia. It's important to get yourself into deep water with being an artist."
With these big experimental gambles stitched into the fabric of Green Day's history, it's easy to see why all three members seem relaxed about reworking their formula for Father Of All…. They suggest they don't try too hard to second-guess what their audience might want or be expecting. "We're kind of selfishly trying to get off on our own," says Tré, exercising his fondness for double entendres, before Mike taps into the idea that there will always be certain qualities that make Green Day records special.
"I think no matter what influences we're recording under, once it comes through the Billie, Mike and Tré filter, it becomes Green Day," he says. "It's kind of like a quality assurance stamp. I don't want to listen to a shitty song, let alone play one for years on end."
With a firm grasp on the style that they wanted this next era to take, plans for the new album began to gather pace once the band entered Butch Walker's studio in Santa Monica. The producer was once the lead guitarist in '80s glam metal pretty boys SouthGang and frontman to all-American pop-rockers Marvelous 3 in the '90s, but more recently he's been on the other side of the window for albums such as Weezer's Pacific Daydream, The Struts' Young & Dangerous, and Fall Out Boy's M A N I A.
Working with another producer at all was a shake-up of sorts for Green Day. The three members had fulfilled most studio duties themselves for Revolution Radio, while the last time that somebody new to the band had stepped into the role – that being, somebody who wasn't longtime collaborator Rob Cavallo – was Butch Vig for 21st Century Breakdown. But the band felt as though they were right back in Billie Joe's personal Otis Studio from the moment they stepped over the threshold of Walker's door.
"I was like, 'I cannot believe this guy,'" remembers Mike. "His studio revolves around his coffeemaker, there are motorcycles in the room, a record player… we might as well have been at home! I walked in and went, 'Holy shit, this guy is cut from the exact same cloth as us.'"
The bassist admits that there was the feeling of "having to get past the first date" before they could properly settle into a groove with the new producer, but there was an acceptance that the early apprehension could be good for them.
"If you're not entirely comfortable, but you're doing the work to get into something creative and you're a little uneasy – well that's good, that means you might learn something, or you're actually putting your neck out there to get the results that you haven't achieved yet," he says.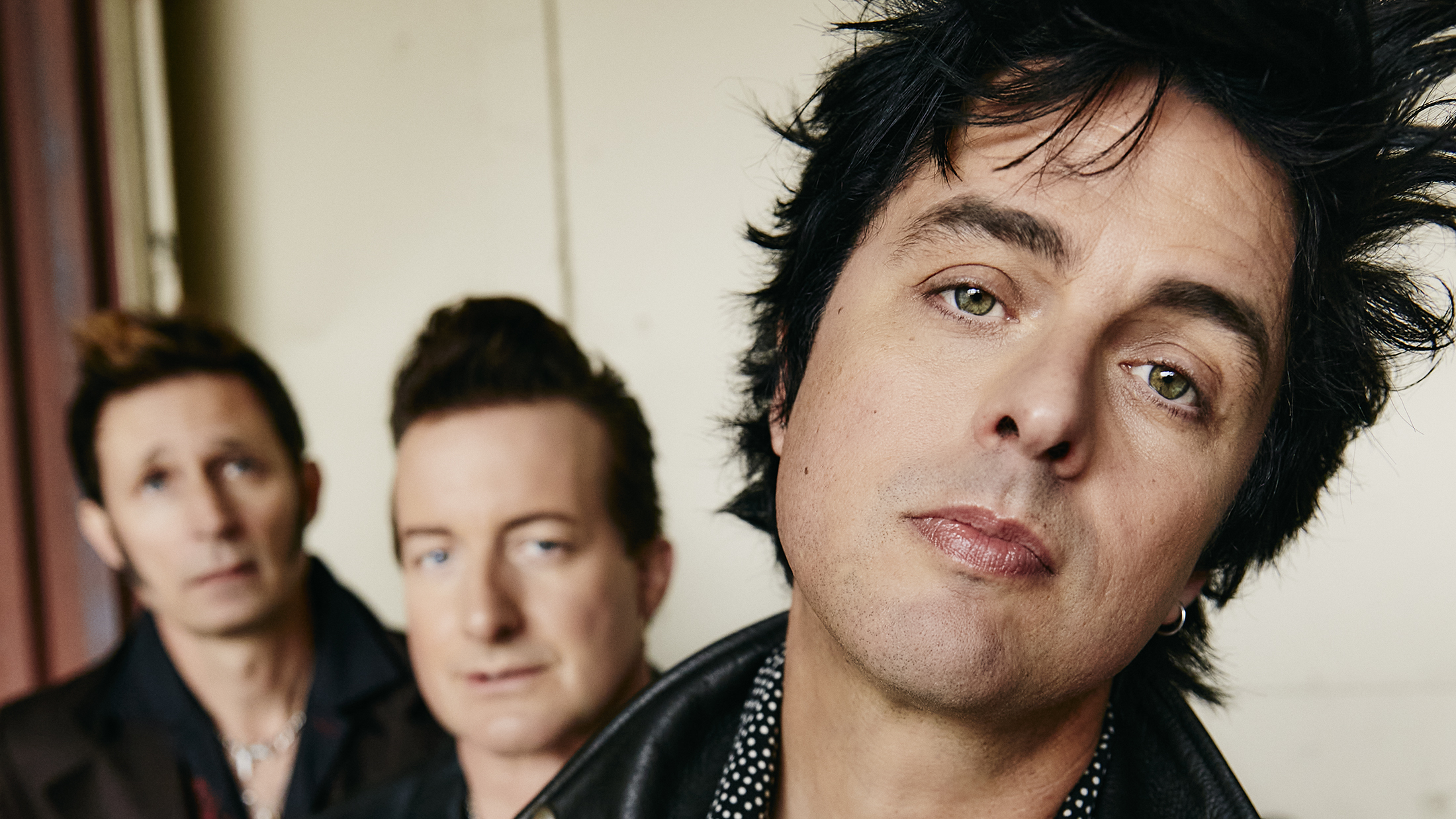 Perhaps the biggest energetic shift that you'll notice within the final arrangement of Green Day's new album is how short, sharp and to-the-point everything is. Only one song of 10 makes it past three-and-a-half minutes, while Tré points out that you could listen to the whole thing on your way to work. Billie Joe has previously shrugged off this newfound brevity as a growing dislike of lengthy songs, while there are musings from the group today about modern attention spans in a digital age. But perhaps a more straightforward answer comes when the band suggest they simply weren't looking for big, embellished arrangements this time out.
"If anything, we didn't realise it was doing that as much as it was," says Mike. "It was more along the lines of the Dookie and Insomniac era of writing, where you don't have to repeat the chorus again to get a third verse."
Tré explains that when he received a final test pressing of the record he played it on his turntable at home, and then, simply by chance, he followed it up with 1964's Meet The Beatles!. He was struck by the similarities between the two records in terms of their spirit.
"Man, we weren't even thinking about that record," he says, "but that's a really short, concise record, with to-the-point songs. Like, the song I Want To Hold Your Hand doesn't go on and on, y'know? He wants to tell you something, he wants you to understand, and then, boom, there you go: he wants to hold your hand. Next song. It gets into it, does its thing, and it moves on. That's kind of what we're doing on this record."
The distinct, choppy and feel-good nature of the songs also became the perfect foil for Billie Joe to contrast against the growing angst and unease that he was unearthing in his lyric writing. "That's the part that gives it the joyous feeling about the record," he says. "But then the inside of the record can be very dark."
The frontman says that a lot of his lyrics come to him at night, when he can feel alone. "It definitely contributes to my insomnia, that's for sure," he says. Unusually, song names would often turn up in his head before the songs. He gives the example of I Was A Teenage Teenager, a reference to titles like those of 1957 monster movie I Was A Teenage Werewolf or Misfits' Teenagers From Mars, which became the perfect embodiment of his perceived boring youth. But he also found his thoughts coming back to a consistent theme, one that taps into the restlessness of a western world dominated by impeachment, Brexit and climate change: how do you lift your spirits in a time of political chaos and polarisation?
"A lot of the songs [are about] dangerous living," he says. "Waking up, feeling paranoid about where life is going to end up, where the country's going to end up, but finding escapism through getting drunk and bingeing on drugs or something."
There are songs where the politics rise to the surface. Oh Yeah! makes reference to the tragic glut of school shootings in America, with standout lines such as, 'Burning books in a bulletproof backpack.' Meanwhile, the album's closer, Graffitia, shines a spotlight on people in the country who are feeling increasingly desperate. Its first verse deals with the death of industry in Rust Belt towns that are losing their identities and where people are losing their jobs, while its second half is about young black men that are being shot in the street by the police for no reason other than the colour of their skin. "We have to be aware of what's going on with the people that are inside of our country that are feeling disenfranchised," says Billie Joe.
The frontman had previously stated that there would be a song titled The Art Of The Deal With The Devil on the record, in reference to Donald Trump's book The Art Of The Deal. But when the tracklist for Father Of All… arrived, fans noticed that the song name was absent, perhaps because Billie Joe had also stated he wanted to make no mention of the divisive 45th President of the United States on his record. The singer asserts that this wasn't the reason, however.
"I have no problem referencing Trump," he says. "I think that he's the most divisive leader of a country since Adolf Hitler. It sounds melodramatic to say it, but living in America, it's just true. But no, that title… I'll name one of my songs that eventually. It's nothing more than it just didn't make it on to the record."
Just as loud as the singer's political aversions – and possibly even louder – throughout Father Of All… is Billie Joe's personal angst. Dark and twisted one-liners reign supreme, with some that feel near impenetrable. Speaking to him, you sense that Billie Joe is still figuring a few of them out for himself. Take Sugar Youth, a woozy rock'n'roll headspinner that's probably the nearest thing to a bridge between the band's punk rock back catalogue, and its line, 'I wanna drink all the poison in the water / I wanna choke like a dog that's on a collar'. Or the title-track's declaration that, 'I've got paranoia, baby / And it's so hysterical'. These are some of the gloomiest shades seen from the singer since 1995's Insomniac album.
"I always think of writing lyrics like I'm torturing the English language," he says. "Y'know, 'Burning books in a bulletproof backpack', I mean, it's a pretty heavy line. I think another heavy line is: 'Rock'n'roll tragedy / I think the next one could be me' [from Junkies On A High]."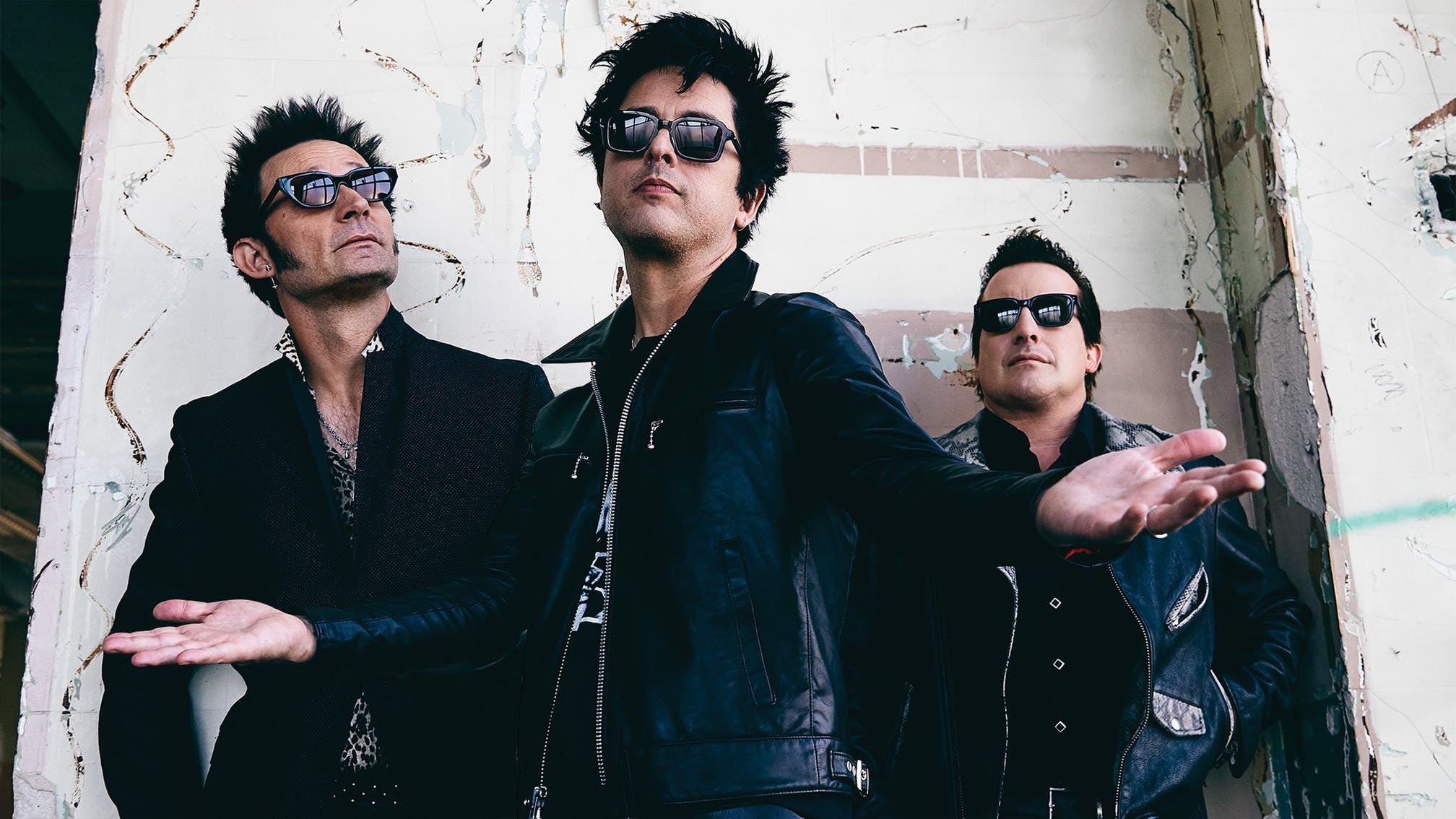 What does he believe it was that got him into that headspace?
"I don't know," comes the answer. "A lot of critical thinking. A lot of stuff I write, it kind of comes as a stream of consciousness. I'll put it down and then for some reason it makes more sense later. I think lyrics for me are like trying to make every line feel like it matters. There are certain things that may sound heavy and make a lot of sense, and then there are other parts where you're just like, 'What the fuck am I talking about?'"
Along for the ride with these bleak tones, in what could probably be assumed from any Green Day output, is a whole heap of black humour. It is, after all, a record that carries a full, uncensored title of Father Of All Motherfuckers. And together with the band's revitalised rock'n'roll sound, this feeds the feeling of a slightly messed-up, slightly chaotic good time that the band want to be this record's redeeming quality; a reprieve from a tough world without foregoing any responsibility towards getting it back on track.
"Times are tough: we've got impeachment and Brexit and wars and famine and global warming and garbage floating in an ocean bigger than most countries in Europe," says Tré. "Shit's really grim, and so we don't want to feel shitty all the time, so let's just have some fun and enjoy each other and live life and dance, rock out. It's a bit of an escape; it's not putting a band-aid on anything. I think it's more, 'Just let it bleed, baby.'"
It's a sentiment that Billie Joe echoes, both for fans and for himself.
"I just want people to be able to dance and lose their minds a little bit, as a form of escapism," he says. "But maybe get a little bit more introspective with it also. It makes me feel like trying to have more fun in my life, despite all the obstacles that are in front of it."