Green Day
Green Day's Billie Joe Armstrong Has Shared Some Incredible Old Tour Stories And Videos
Green Day frontman Billie Joe Armstrong has been posting live footage from over 30 years ago.
While Green Day have been taking some much-needed downtime recently to write a new album, frontman Billie Joe Armstrong has also been reflecting on the trio's past.
Having been going strong for over 30 years now since their initial formation as Sweet Children, there's naturally a ton of footage and stories from the band's constant touring and performance throughout the years – and Billie Joe has been encouraging fans to share their own unseen videos.
Re-posting the clips on his Instagram, the vocalist/guitarist has also contextualised some of the footage – from Lollapalooza '94 in which he had to borrow a guitar from L7's Suzi Gardner, to admitting he once spat on the window of a Zachary's Pizza when he tried to buy beer but didn't have any ID. Amazing.
Check it all about below and get nerding out immediately.
PVHS 1990 . We use to play dry ice at the end of every set.. high school was brutal for me.. and mike shows it at the end! The next page is an old locker from that "show".. also the girls behind us have some serious "mall bangs"
this video is from lollapalooza 1994. I remember my guitar was broken so Suzi from L7 l7theband borrowed me her guitar. So fucking cool of her .. and what a rad guitar! If anyone wants to send me videos of early shows (And I mean the REALLY shows) I can jar my memories and tell quick stories here on Instagram. It'll be fun. It's crazy how filming big concerts was illegal back then! Now we all have video cameras. billiejoescampfire
Here's another from greendayvideo . Toronto! Opening for bad religion badreligionband . This was some sorta elks lodge or church or masons building.. I was excited because the doughboys were on the bill also along with Sea Weed from Washington There was a downstairs back stage. I remember watching Brett Gurewitz writing a song on his guitar.. who remembers what this venue was? Send to your vids to billiejoescampfire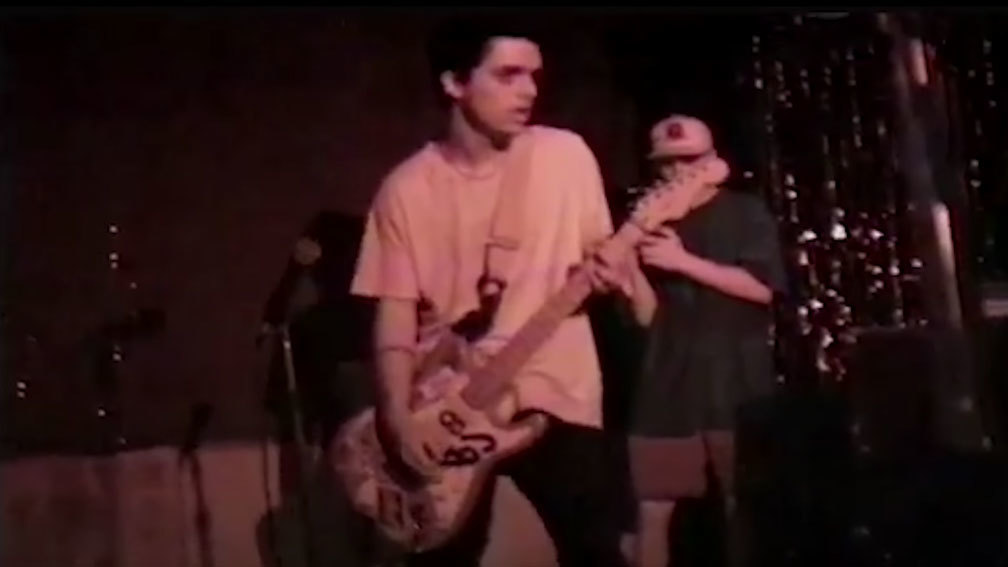 Haha. Wait for it Operation Ivy Gilman Street .. 1988 ish.. timtimebomb jesse9michaels billiejoescampfire
And that brilliant Zachary's Pizza story, courtesy of @patrick.suto asking the following question…
Aye bill my mom used to work at Zachary's pizza and she said one day you didn't have your ID and tried to buy beer and she didn't give it to you so you spat on the window and walked out can I get some confirmation on this it's legendary
To which Billie Joe replied:
yes. We were also doing an interview with spin mag that same day.