Bon Jovi
Jon Bon Jovi's Son Is Basically His Twin
EXCLUSIVES THE DIRT ROYALS CRIME MOVIES TV POLITICS MUSIC SPORTS FEATURES
Jon Bon Jovi's Son Is Basically His Twin
Ron Adar/Shutterstock
BY TRACEY JOHNSON/DEC. 13, 2021 11:52 AM EST
Jon Bon Jovi is a legend. He's one of the world's biggest rockstars, and his longevity in the cutthroat music industry is almost unparalleled. Yet, despite his success in his career, Bon Jovi considers himself a family man above any other job description. He told People in 2020, "I'm happiest if I like what I do for a living, I'm doing right by my family and I'm making the world just a little bit better." He clarified that his music was not his identity, saying, "It's just what I do, it's not who I am. I write songs. I happen to be very good at performing them. That's it." Bon Jovi and his wife, Dorothea Bongiovi, are high school sweethearts and have been together for over four decades and married since 1989.
The couple has four children together and prioritized their family as they "never fell for the trappings of what celebrity can do." The rock icon told Female First that his most memorable experience was never on a stage. He revealed, "If I could go back and relive any moment in my life, the first thing that comes to mind is the birth of my kids. Because that was such a miracle."
The affection is anything but one-sided. Jesse Bongiovi gushed about their close father-son relationship in a Daily Mail interview, but fans also noticed how much they resemble each other physically.
Jon Bon Jovi and his son Jesse are close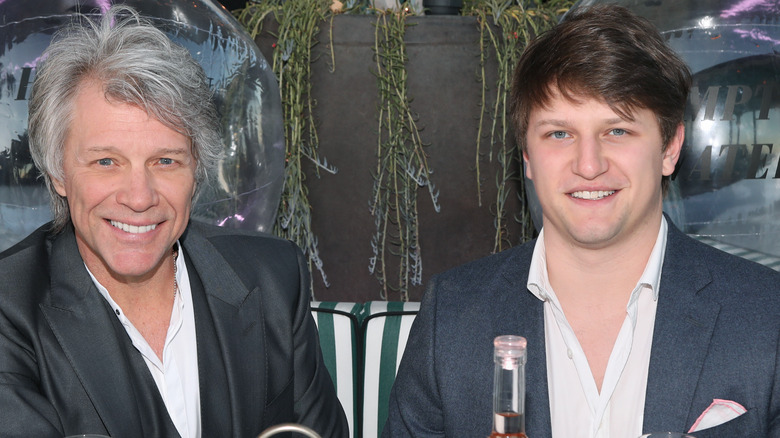 Jesse Bongiovi is a carbon copy of his father, Jon Bon Jovi — give or take a few years. From their twinkling blue eyes, down to their cheeky grins, there is a striking resemblance between Jon and Jesse. Even if the singer now sports a salt-and-pepper hairstyle, Jon's still a sight for sore eyes. And that's not even mentioning the way they both fill out their suits!
In a recent interview with Daily Mail, Jesse praised his father, saying, "Anyone that's had a career in anything as long as he has, has got to be pretty astute." In 2018, Jesse and his friend, Ali Thomas, set out to produce a rosé wine "that is very drinkable," per CNBC, and their brand, Hampton Water was born. Jon is also part of the business, and Jesse revealed, "One of the great things he taught me very early on [in life] was patience and to just really take my time. Once something goes out to the world, there's no taking it back."
Jon also taught Jesse about hard work. In 2019, he told Closer Weekly, "…My dad is an incredibly hard worker." Yet, Jon also made time for his kids while they were growing up. Jesse relates a touching story about his dad. "My favorite memory growing up is when me and my youngest brother Romeo would play my dad and middle brother Jacob in football," he reminisced. "We never lost!"