Genesis
The Stunning Transformation Of Lily Collins
Growing up in the Hollywood limelight, Lily Collins, daughter of famous British singer Phil Collins and American actress and architect Jill Tavelman, has made a name for herself in the entertainment industry. She's a writer, producer, and, most notably, an actress, appearing in award-winning movies like "The Blind Side" and the Netflix hit "Emily in Paris."
Born in England, Collins landed her first acting gig as a toddler (per The Guardian). As she grew older, acting turned into a passion after she moved with her mom to Los Angeles at age 5. And although Collins grew up and is living in the glamorous world of Hollywood, the actress has demons of her own just like anyone else. She hasn't shied away from sharing them with fans for the sake of transparency. In her 2017 memoir, she touched on her past struggles with her parent's divorce and bulimia to help others struggling, according to InStyle.
From her childhood growing up under a magnifying glass in Beverly Hills to getting married and becoming an established actress, here's a closer look at Lily Collins' life and her stunning transformation.
Lily Collins comes from music royalty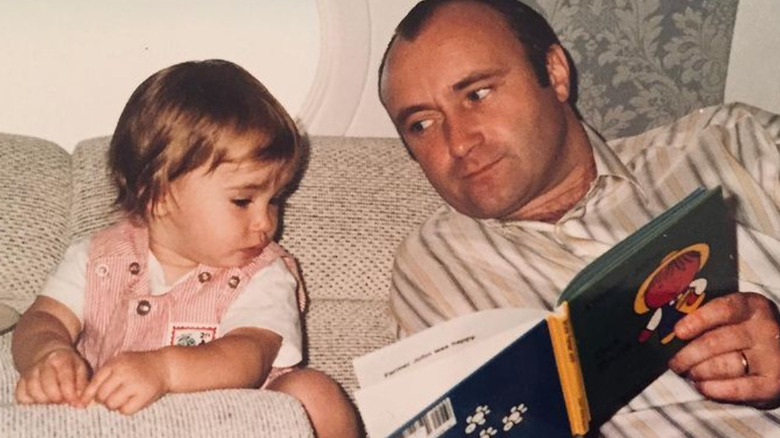 Lily Collins realized her father — British icon Phil Collins (Genesis frontman who later became a solo artist) — was different from the other dads at a young age.
In an interview with Radio Times, as reported by the Daily Mail, Collins confessed the aha moment where she learned her dad was famous. During a family trip to Disneyland when she was a child, the actress recounted, a park guest wearing a T-shirt with her dad's face on it approached her and her dad. "I was thinking, 'Why does he want a picture of my dad, and why is my dad on his T-shirt?' Slowly but surely, I started to understand," she told the outlet.
Collins is the daughter of Phil and his second wife, Jill Tavelman, an actress and businesswoman who was married to the music icon for over a decade. The duo had a very public divorce, and reportedly Phil Collins asked for a divorce via fax, according to a 1994 People article. Years later, in 2016, the singer later shot down that rumor in an ABC News interview.
She developed a love for acting at an early age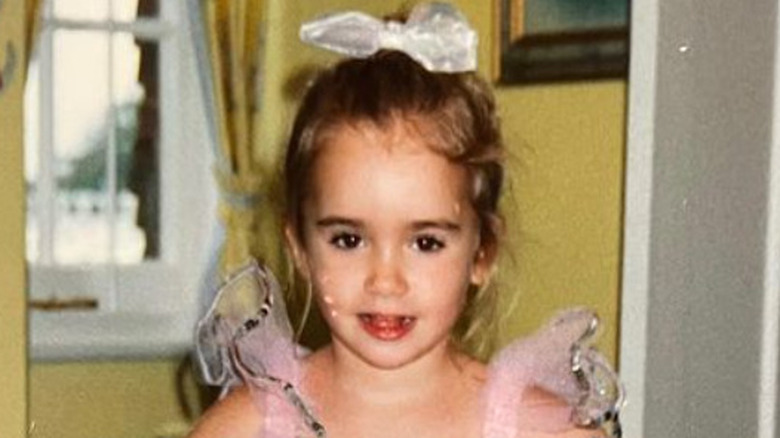 Lily Collins began acting when she was a toddler, and her love for the craft grew from there. At 2 years old, she appeared in the BBC sitcom "Growing Pains," according to The Guardian. Collins landed the role, she told the outlet, "through some connections with my grandmother or something like that."
In an interview with Shondaland, Collins attributed her love of acting with her childhood bedtime stories. "My mom and dad would read books to me before bed, as a lot of parents do, and I would just kind of disappear in this dream world in my head of what the movie would look like," she told the outlet.
At age 5, her parents divorced, and Collins moved to Los Angeles with her mom, per The Guardian. With such a close proximity to Hollywood, Collins was able to explore more of the entertainment industry and, in her teens, became a columnist for a teen magazine and a socialite, even making a cameo in MTV's "The Hills."
Lily Collins struggled with an eating disorder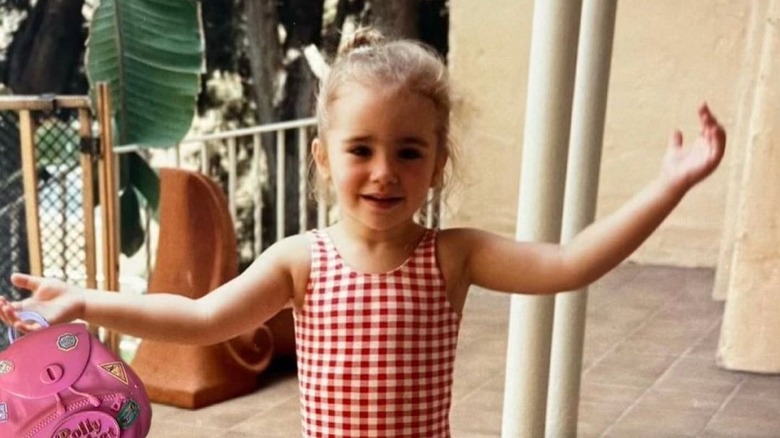 Lily Collins started struggling with an eating disorder as a teen. While on the "Make It Reign" podcast in 2021, the actress shared with host Josh Smith that she's relied on therapy over the years to help her manage it. She shared that she felt that therapy helped her "[get] to the root of why I allowed those darker thoughts to dictate how I lived my life and what I did or didn't eat and just the restrictions I put on myself." While she didn't specify what those thoughts were, she said they occurred more when she was younger and they don't "apply to me anymore."
Collins went even deeper into her previous eating disorder in a 2017 interview with Harper's Bazaar and opened up about her triggers. "When I was younger, I wanted to reach this image of what I thought perfection was and I equated that with — well, with what you see in the media," she shared with the outlet. Collins said her eating disorder began in high school and that it took getting older and more mature to recover. Although Collins admitted she's still in recovery, she shared that she doesn't let her "past eating disorder" have "control" over her.
If you are struggling with an eating disorder, or know someone who is, help is available. Visit the National Eating Disorders Association website or contact NEDA's Live Helpline at 1-800-931-2237. You can also receive 24/7 Crisis Support via text (send NEDA to 741-741).
She found her voice through writing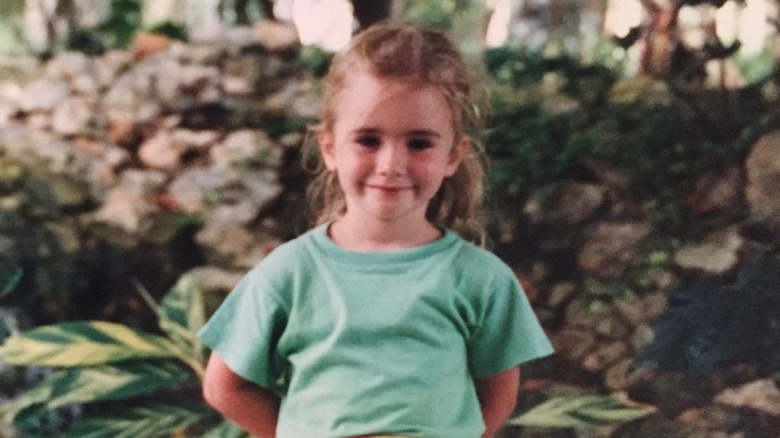 Before acting became Lily Collins' world, she dreamt of being a journalist and acted on it for a little while. In a 2019 interview with The Guardian, Collins confessed that, when she was younger, she wanted to become "the youngest-ever talk show host." To achieve that, she wrote for a handful of publications, like Teen Vogue and Elle Girl, and reported on the 2008 presidential election and Barack Obama's inauguration for the children's network Nickelodeon.
She took it a step further and enrolled at the University of Southern California to study broadcast journalism. However, Collins dropped out her sophomore year when she landed her first-ever movie role in "The Blind Side," launching her acting career. But Collins didn't give up her love of writing and journalism, at least not completely. In 2017, she published a memoir called "Unfiltered: No Shame, No Regrets, Just Me." While speaking to Shondaland in 2019, Collins expressed that writing is still important to her, despite focusing on acting. "One of my favorite subjects in school was English and literature," Collins said, adding, "I also love journalism. For me, writing is just a way I get to explore that while still acting. I never wanted to fully close the door on journalism…"
Landing a role in The Blind Side was a major moment for her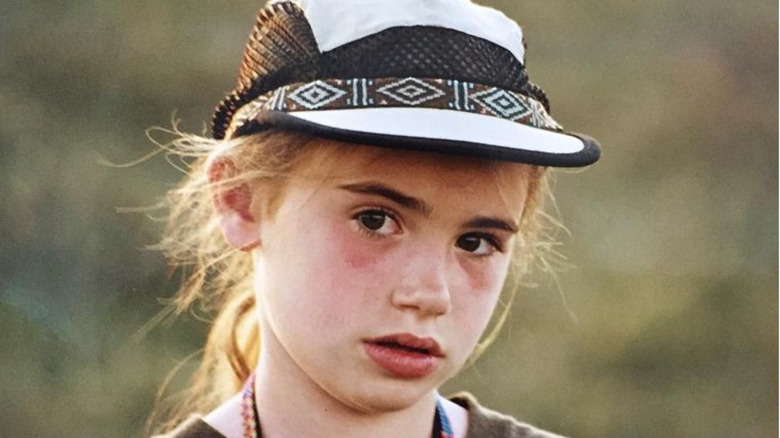 While many actors struggle to find a solid role at the beginning of their careers, Lily Collins got a chance to play Sandra Bullock's daughter in 2009's "The Blind Side," her first-ever movie role, per Deadline. The Oscar-nominated movie would help launch Collins' acting career, and she'd go on to star in films like "Mirror Mirror" and plenty of Netflix projects, from "Extremely Wicked, Shockingly Evil and Vile" to "Okja."
Speaking to the outlet, Collins described the experience of landing the role in "The Blind Side" as "pretty wild," adding, "When we heard we got nominated, 'A lot of people said to me, 'So, you know this isn't normal. This won't happen every time.'" Collins confessed that she "didn't even know what to expect" when she auditioned for the role. When she found out she got the gig, that's when she was told she'd be shooting in Atlanta and starring alongside veteran actress Sandra Bullock. "I was like, 'Oh wow, that would've been lovely to know,'" Collins told Deadline.
Lily Collins learned to love what makes her 'different'
Dave Hogan/Getty Images
Lily Collins struggled with body image issues when she was younger and has since learned to embrace what she'd previously considered to be her imperfections.
In an interview with Elle in 2021, Collins spoke candidly about her past insecurities, one of which was her naturally thick eyebrows. "When I was younger, I was definitely more self-conscious of my eyebrows," she told the outlet. Collins said her mom, Jill Tavelman, told her to embrace "the quirky things that make you different," but she wouldn't understand that until she got older. In her memoir "Unfiltered: No Shame, No Regrets, Just Me," Collins' recounted the time she "went to town" on her eyebrows and plucked half of them off. Now she knows better. "I realized that my eyebrows are what make me Me, and there's only one Me, so why not be the fullest version of Me?" she told Elle.
Collins also struggled with an eating disorder when she was younger because she felt pressure to reach "perfection," but as she matured, she told Harper's Bazaar, she realized perfection isn't real. So she shifted her mindset to focus on what she wants: a family and kids. And the reality of it is, she added, "you can't have children when you're ill like that."
Lily Collins embraced her past and accepted her parents' divorce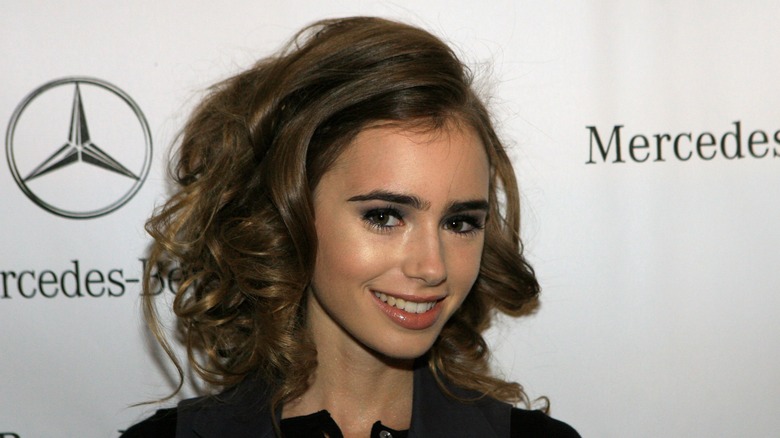 Lily Collins learned as an adult to embrace her past and her parent's decision to split when she was just 5 years old, which led her to see her dad, Phil Collins, less. Collins, born in England, would move with her mom to Los Angeles after the split, per InStyle.
According to a People article published in 1994, Collins' mom, Jill Tavelman, said her daughter "hasn't seen her father for two months," adding, "She keeps weeping, 'I want my daddy.' Phil sends her faxes, but I know she'd rather hear his voice. Phil doesn't phone because he has to save his voice for the next day."
In Collins' memoir "Unfiltered: No Shame, No Regrets, Just Me," which was published in 2017, Collins opened up about her complicated relationship with her dad and even wrote a letter in the book forgiving him, as reported by the Daily Mail. "I forgive you for not always being there when I needed and for not being the dad I expected," she wrote. Fortunately, it seems like Collins has a good relationship with her father these days. In a 2020 Instagram post, Collins shared a throwback photo of her and her famous dad and thanked him in the caption for "instilling in me the passion to be creative."
Lily Collins chooses acting roles that 'challenge' her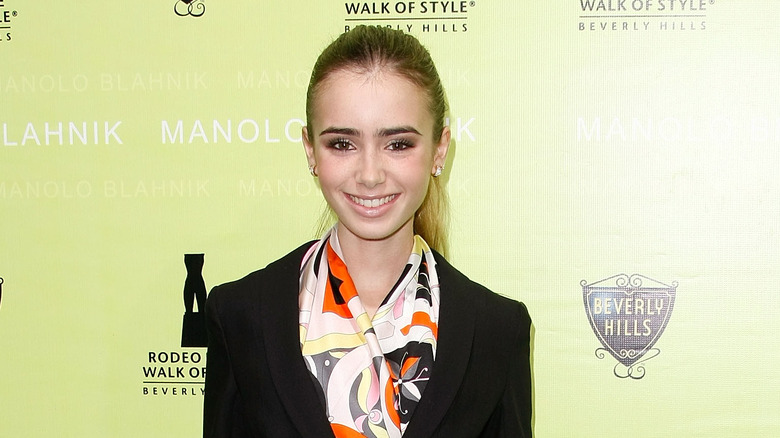 Lily Collins doesn't take just any acting role presented to her, especially not after decades working in the entertainment industry. In an interview with Shondaland, Collins shared that she gravitates towards characters she believes will "teach me a lot about myself and that will challenge me." She referenced her role as Fantine in the PBS version of "Les Misérables," which ran between 2018 and 2019. "It's kind of the most raw I've ever had to be in the moment, especially when Fantine's demise starts. Physically and emotionally, it was the most grueling work that I've ever done," she told the outlet.
Another challenging role was in 2017's "To the Bone," which centered around an anorexic woman named Ellen struggling with and slowly recovering from an eating disorder. In an interview with USA Today, Collins, who suffered from anorexia and bulimia when she was younger, got into character by losing weight. "I personally knew that this was something I needed to do to tell this story," she told the outlet, adding, "I wanted to be able to best exert my experiences on (Ellen) by going to the lengths I felt comfortable going to as an actor."
Emily in Paris is a 'dream job' for Lily Collins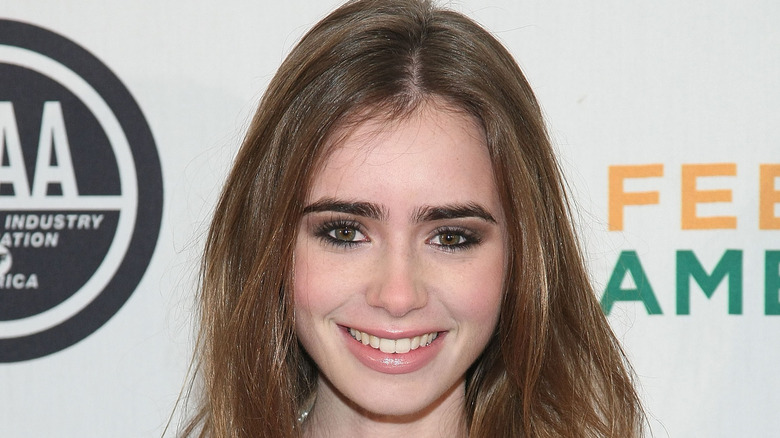 When the script for "Emily in Paris" landed on Lily Collins' lap, the actress knew she had to accept the role of Emily. "The overall tone of 'Emily in Paris' was something that I'd been wanting to find for a long time, but it's hard when it comes to romantic comedies," she told Vogue.
The Netflix series, which premiered in 2020 and aired its second season in December 2021, centers around Emily (played by Collins), an American fashionista who moves to Paris to work at a marketing firm but doesn't understand much about French culture or speak the language. It was a "dream job" for Collins, who said so while appearing on "Live with Kelly and Ryan" when the first season premiered in 2020. She noted she was also grateful for "the opportunity to have been there [in France] as a local for four months."
Collins often shares behind-the-scenes photos on Instagram with her fans while filming. One post showed Collins sitting in the producer chair, and the caption read, "I'm beyond grateful to every single person who made this season possible, during the middle of a pandemic no less."
Lily Collins struck a balance between work and play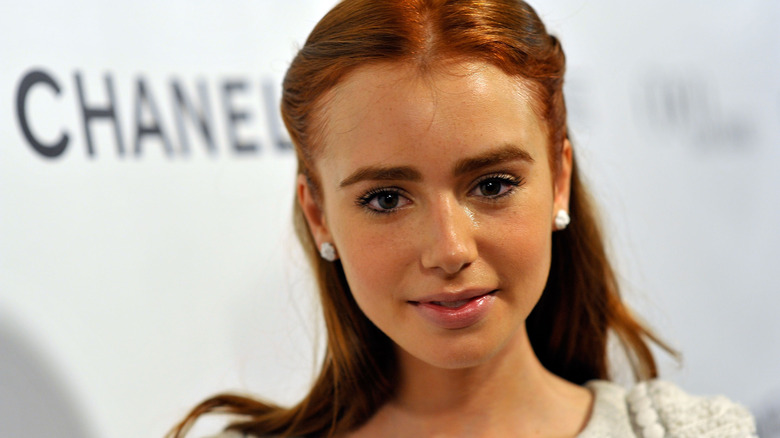 After three decades in the entertainment industry (remember, she landed her first acting role at age 2, per The Guardian), Lily Collins has found a better balance between work and play. While speaking to Vogue Australia in 2021, Collins confessed that she was work and future-oriented as an aspiring actress "because I knew so badly where I wanted to go and where I was headed. Or hoping to head." The actor told the mag, "That was my focus, and I lost sight of present moments, and the 'now' moments."
Collins is still work-driven but allows herself to enjoy her time with family and friends and the life she's created for herself. Anytime Collins feels imbalanced, she engages in mindfulness techniques, including meditation and journaling. Collins does, however, allow herself to daydream and says she hopes experiencing motherhood and continuing to create stories on-screen are part of her future, but for now, she said she's focusing "far more on the present, and the future will come."
She found love and marriage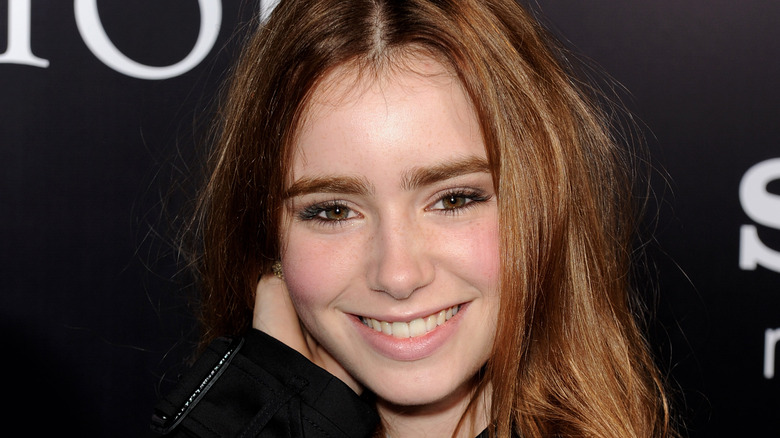 Lily Collins found love in a typical Hollywood way — on a movie set.
The actress announced her engagement to writer and director Charlie McDowell in September of 2020 with a series of photos on Instagram. She captioned the photo album featuring snaps of the proposal and ring with: "I've been waiting my lifetime for you and I can't wait to spend our lifetime together." Collins and McDowell dated for a year before he popped the question during a road trip in New Mexico, as People reported.
Like Collins, McDowell has famous parents, actors Mary Steenburgen ("Step Brothers") and Malcolm McDowell ("A Clockwork Orange"). Collins met her future hubby on the set of "Gilded Rage." She was the star and he was the director. "It was one of those situations where I knew the second I met him that I wanted to be his wife one day. So, it was just a matter of when, really," Collins told The Mirror.
According to People, Collins and McDowell tied the knot in September 2021 in an outdoor ceremony in Dunton, Colorado. Always the fashionista, Collins wore a Ralph Lauren lace design to walk down the aisle with, which took almost 200 hours to make, according to Collins' Instagram post.
Lily Collins is diving into other Hollywood roles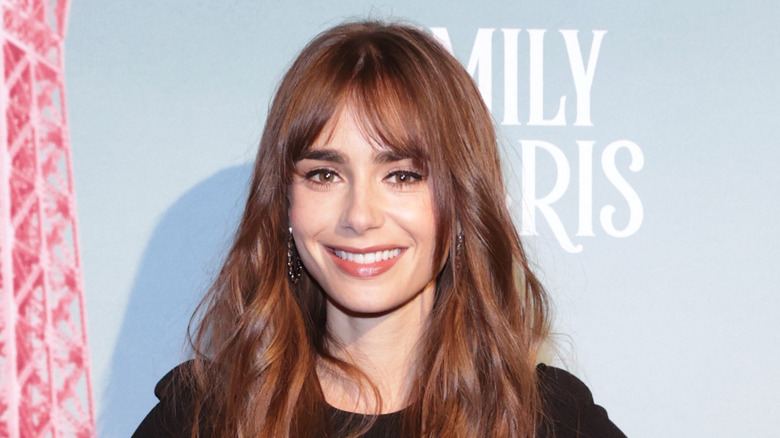 Lily Collins has played many roles in Hollywood — an actress, writer, model, and even a socialite. On Seasons 1 and 2 of the Netflix hit "Emily in Paris," she not only starred in the show but she took on the role of producer. When Season 2 premiered on Netflix in late 2021, Collins shared with Vogue Australia that producing gives her more control over the production, and she loves it.
One of the things Collins was "very vocal" about as producer on Season 2, she told the outlet, was giving more screen time to her co-stars and increasing the diversity of the cast. "When you're given feedback after the first season of a show, it does allow you to do better, to listen, and to creatively still feel like the show you set out to make, but also allow for change, and more voices to be heard," she told the mag, adding, "That was really important to me."