Eddie Van Halen
Eddie Van Halen Was Married to Wife for 11 Years before His Death — Meet Janie Who He Wed Wearing Flip-Flops
After a tumultuous first marriage, legendary Guitarist Eddie Van Halen met and married former stunt woman Janie Liszewski who remained with him until his death.
Eddie Van Halen was born Edward Lodewijk Van Halen on January 26, 1955, in Nijmegen, the Netherlands. His family moved to California in the early 1960s, and while growing up in Pasadena, Eddie and his brother, Alex, took piano lessons, playing mostly improvised classical.
In 1974 the pair hooked up with vocalist David Lee Roth and bassist Michael Anthony to form the music group "Van Halen." They were discovered in a pub by Gene Simmons, who paid for their first recording session. The band rose to fame in 1978 when Eddie signed a deal with Warner Bros.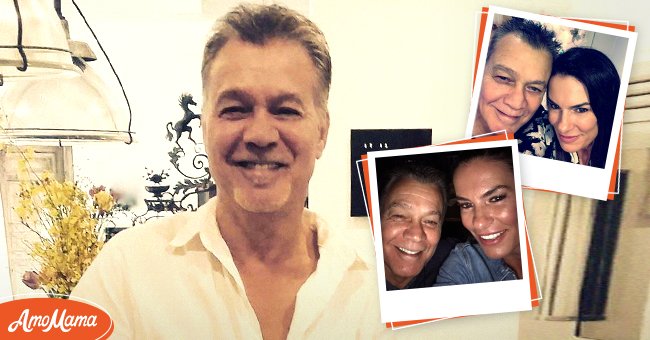 Picture of singer Eddie Van Halen at his home during Thanksgiving Holiday [left] Pictures of Eddie Van Halen and his wife, Jane [right] | Source: instagram.com/eddievanhalen || twitter.com/JanieVanHalen
They subsequently released their album "Van Halen," which featured the hit single "Runnin 'With the Devil.'" The album went platinum within six months of its release. They became one of the most successful bands in history during the following year, and Eddie led them through this period.
The band released a series of commercially successful albums, which included 1979's "Van Halen II," and 1980's "Women and Children First," as well as 1981's "Fair Warning" and 1982's "Diver Down."
However, the talented Eddie battled with substance abuse issues away from the music scene. Let's take a look into his personal life.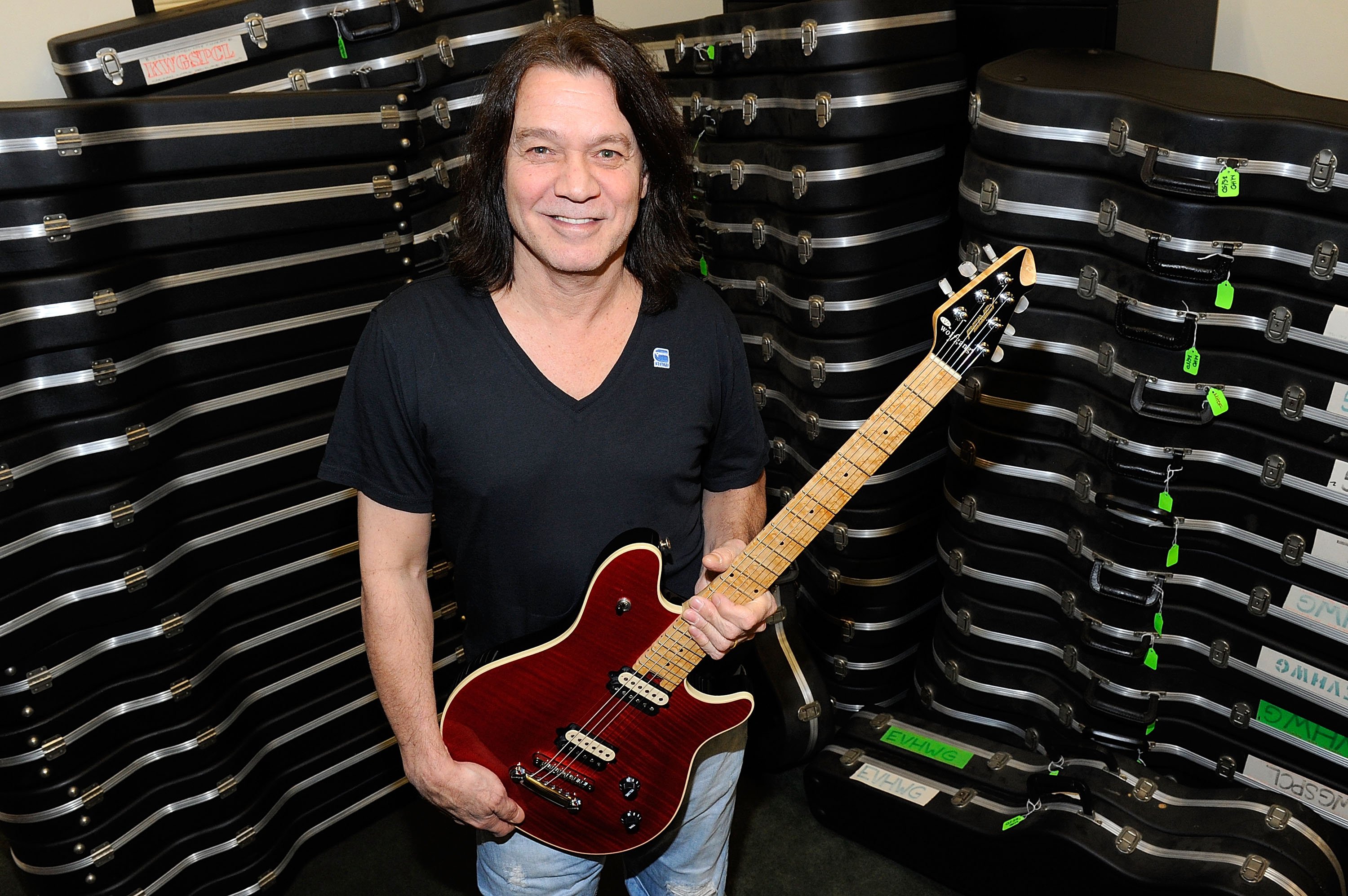 Eddie Van Halen donates 75 electric guitars from his personal collection to The Mr. Holland's Opus Foundation, on January 9, 2012 in Studio City, California | Source: Getty Images
MARRIAGE WITH VALERIE BERTINELLI
Eddie and Valerie's romantic relationship started when the pair met for the first time backstage at a concert by his band "Van Halen." At the time, 20-year-old Valerie was quite famous for starring as innocent Barbara Cooper in "One Day at a Time."
Not long after they started dating, the pair faced issues when Eddie was dragged into a paternity suit by a woman who claimed he was the father of her child.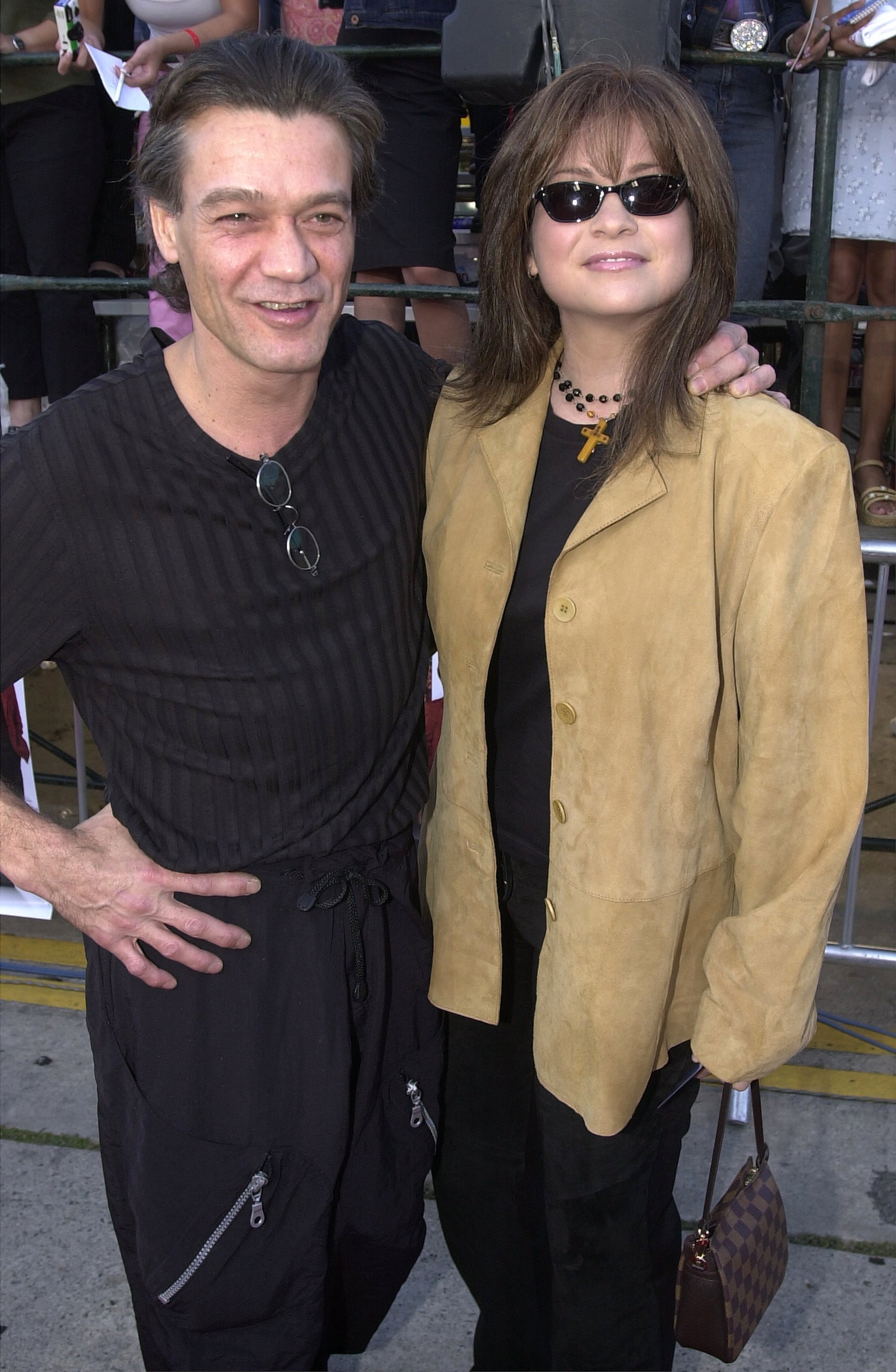 Eddie Van Halen and Valerie Bertinelli attend the film premiere of Colombia Pictures" "America"s Sweethearts" July 17, 2001. | Source: Getty Images
The Guitarist, however, denied sexual relations with the woman and said that whatever happened between them was not enough to get her pregnant. He also disclosed it was before he met Valerie. The paternity case was eventually thrown out of court.
In 1981 Eddie and Valerie exchanged marital vows at Grayhall Mansion in Beverly Hills, eight months after they met. At the time, Eddie had a reputation for being a heavy user of hard drugs like cocaine, and he was also always drunk.
The Guitarist suffered from substance abuse throughout his career, and drinking was a trait he got from his father, Jan.
He occasionally recalled a moment in his childhood where he got bit on the hand by a German shepherd. Instead of taking him to the hospital, Jan gave him a cigarette and a shot of vodka and told him he would be fine.
Eddie was so addicted to alcohol that when he played a guitar solo for Michael Jackson's "Beat It," he refused financial compensation and instead wanted a case of beer as compensation.
After they got acquainted, Valerie started to drink as much as Eddie, and the pair would be heavily drunk at the latter's concerts.
He also reportedly regularly had cached lines of cocaine atop his amplifier during concerts and had a drug dealer who would travel to him from anywhere in the world.
The musician also enjoyed having groupies, and he and his band once hosted a pair of naked girls known as the Ketchup Queens, drenching them in cocaine.
Valerie joined him on his tours, and in an attempt to keep up with his lifestyle, she started using cocaine. The actress' use got out of control. She was getting so lean that her husband had to implore her to stop snorting and start eating.
By 1984, Valerie was done with taking cocaine. She revealed that she did not like how it made her feel and its effect on her marriage.   
In 1991 the pair became parents to son Wolfgang, but that did not stop their marital issues. Eddie still drank and used cocaine even though Valerie implored him not to.
Throughout the 1990s, their marriage slowly deteriorated. Eddie had a hip replacement surgery done and was diagnosed with tongue cancer.
Afterward, the guitarist promised his wife he had stopped alcohol and drugs, and Valerie believed him until she found cocaine in his wallet. Eddie and Valerie finally separated in 2001, and their divorce was finalized five years later.